Staying up to date with the latest hot topics in Security is a requirement for any Security Consultant. Going to conferences is a great way of doing this, as it also gives you the opportunity to speak to peers and get a good view into what the security industry and the researchers are up to.
This year, we sent a small delegation to DEF CON, which is one of the most known Security Conferences in the world. We think everyone should go there at least once in their careers, so this year we sent Michiel, Cédric, Jonas and Jeroen to get their geek-on in Las Vegas!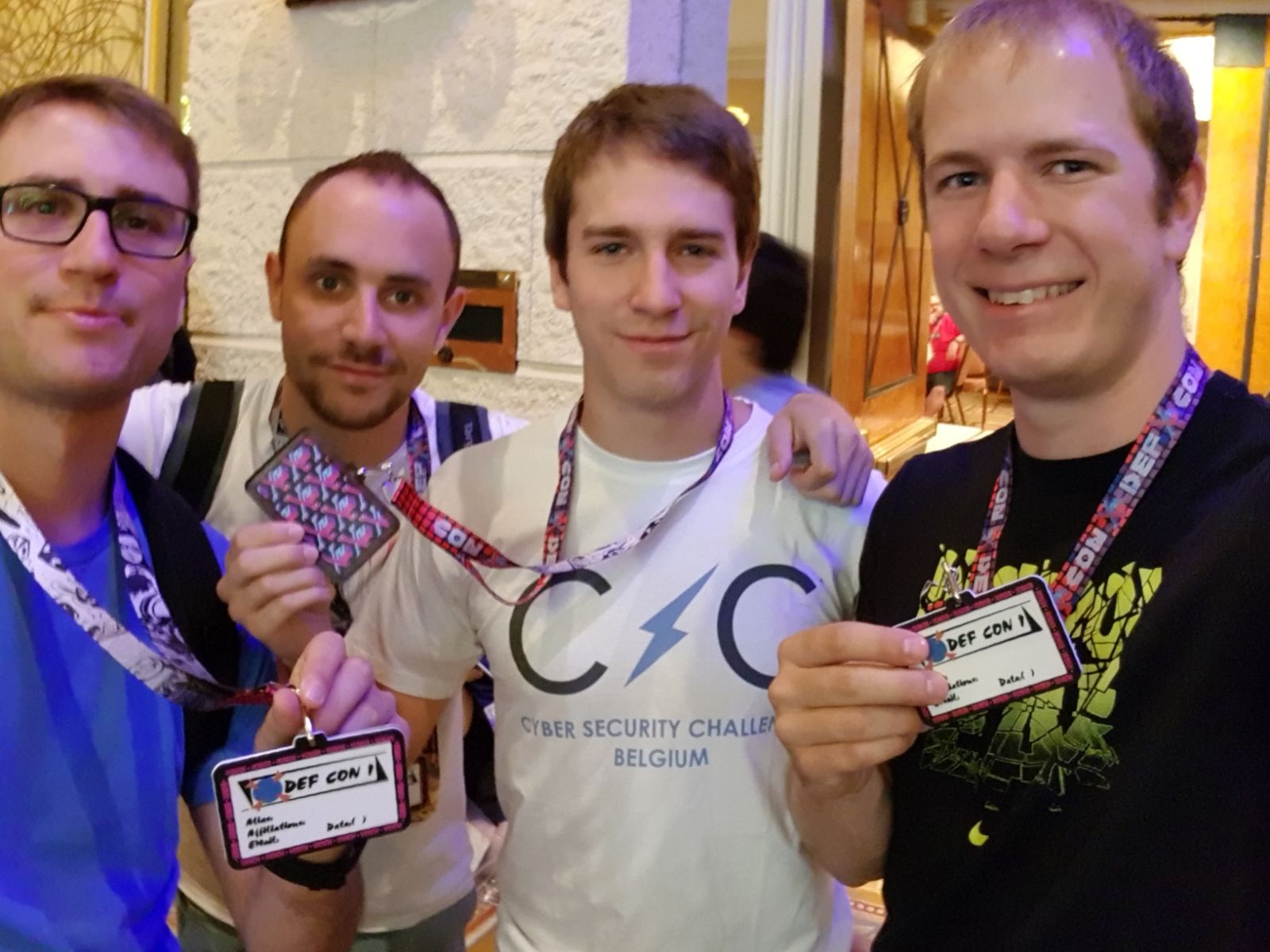 The conference was held at Caesar's Palace's conference center, right in the middle of the famous strip. There were four parallel tracks for talks and a lot of different villages and demos throughout the entire conference. We know that What happens in Vegas, Stays in Vegas, but some of these talks were just too good not to share!
Internet of Things (IoT)
There was a large focus on IoT this year, which was great news for us, as we're actively evolving our IoT skillset. Cédric, our resident IoT wizard, has been running around from talk to talk.
A further update on the IoT track will be provided by Cédric once he is back from holidays 🙂
Mobile
The amount of talks on Android / iOS was fairly limited, but there were definitely some talks that stood out. Bashan Avi gave a talk on Android Packers. The presentation is very thorough and tells the story of how they used a few of the most popular packers to devise an algorithm for detecting and unpacking variations of the same concept. Their approach is very well explained and could be really interesting for our own APKScan service.
On Sunday, Stephan Huber and Siegfried Rasthofer presented a talk on their evaluation of 9 popular password managers for Android. Their goal was to extract as much sensitive information as possible on a non-rooted device. Even though you would expect password managers to put some effort into securing their application, it turns out this is rarely the case. The following slide gives a good overview of their results, but be sure to check out the entire paper for more information.
Biohacking
One of the most interesting talks for us was given by John Sotos (MD). While almost all talks focus on very technical subjects, John gave an introduction on the Cancer Moonshot Project and how creating a gene-altering virus targeted at specific DNA traits is inevitable. This is of course great from a Cancer-treatment point of view, but what if someone would alter the virus to attack different genes? Maybe an extremist vegetarian could make the entire world allergic to meat, or maybe a specific race could be made infertile… In his talk, John explains what could go wrong (and he is very creative!) and how important it is to find a defense against these kinds of viruses even before they actually exist.
Villages
Crypto Village
One of our biggest projects within NVISO Labs consists out of building an out-of-band network monitoring device. In the most recent years we've seen a lot of the web shift to HTTPS.
While this is definitely a good thing in terms of security, it does limit the possibilities of monitoring network traffic. Malware authors know this as well, and are starting to increasingly adopt TLS/HTTPS in their CnC communications (e.g. the Dridex family). In the crypto village, Lee Brotherston demonstrated various techniques to fingerprint TLS connections and even showed a working PoC. This could allow us to create fingerprints for various malware communications and detect them on the network. More information can be found on Lee's GitHub page.
Car Hacking Village
When we were looking through the villages available at DEF CON this year, the newest car hacking village immediately caught our attention. In the room were several cars with laptops hooked to the dashboards and people trying to completely take over the controls. In the middle of the room was a brand new Dodge Viper of which the steering controls got reprogrammed to control a video game instead of the actual car. Some of our colleagues even got the chance to test drive it! Although with mixed results …
Packet Hacking Village
The Packet Hacking Village (PHV) is one of the biggest, if not the biggest, village in DEF CON. It's also the place where Jonas spent a lot of his time, meticulously following talks and taking notes. Different talks could be linked to various steps of the cyber kill chain and were interesting to consider for red teaming assessments or as part of the blue team protecting against these attacks.
One of the presentations that stilled our offensive hunger was given by Gabriel Ryan and discussed wireless post-exploitation techniques. One of the attacks allows to steal AD credentials through a wireless attack using a 'hostile portal' that redirects a victim's HTTP traffic to SMB on the attacker's machine. This, and his other attacks were facilitated by his own eaphammer tool.
Our blue side was satisfied as well with a talk on Fooling the Hound, which attempts to thwart attackers making use of the BloodHound tool, aimed at visualizing the relationships within an AD environment. His deceptions include fake high-privilege credentials, which increase the shortest path towards a high-value asset. The resulting BloodHound graph showed a greatly increased number of nodes and edges, thereby complicating an attacker's lateral movements!
Meetup with the CSCBE winners
As you may know, the winners of NVISO's Cyber Security Challenge 2017 received tickets to DEF CON which was an excellent opportunity to have a little Vegas CSC reunion!
Return to sender
All good things come to and end, and so did the DEF CON conference. We had a really great time in Las Vegas, and everyone made it home safely without losing too much money at the poker table ;-).